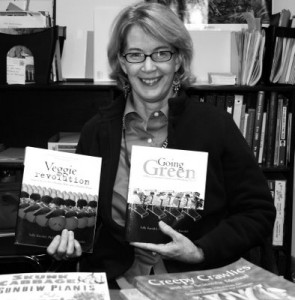 Photo above:  me in my office in March 2009 with my two most recent books, Going Green and Veggie Revolution, co-authored with daughter Sadie in 2008 and 2005.  Photo by Caroline Lowe for  The Hawk Eye.
I've had 11 books published on the environment and social responsibility, on natural history, on teaching science.
Click on the titles below to find a description of each book as well as reviews.  Most are available on amazon.com and on the websites of their publishers: John Wiley & Sons or Fulcrum Publishing.  You can find them by searching for my name.    Or ask your local bookstore to order a book, if they don't have it in stock.
This page has the following sub pages.